Investing in massage is an investment in your overall/long term health and wellness. People often begin to notice a reduction of symptoms in one to three sessions.
Massage
$150/Initial consult/evaluation and first session
$115/Sixty minutes
$135/Seventy-Five minutes
$150/ Ninety minutes
~~~~~~~~~~~
$150/Advanced Specialty Bodywork (60 min)
$185/Advanced Specialty Bodywork (75 min)
~~~~~~~~~~~
$150/Pre/Post Natal
$165/Natural Labor Induction
**WELLNESS PACKAGE (3) 1 Hour Treatments for $330**
(*Does not apply to advanced treatments, cannot be combined with other offers. Call or email to purchase)
For targeted therapy/injury rehabilitation work $150 initial consult/evaluation and 60 minute treatment followed by individualized treatment plan and $150 per additional treatments.
***IF YOU HAVE ANY KIND OF VOUCHER YOU MUST PROVIDE THAT INFORMATION WHEN BOOKING YOUR APPOINTMENT. OTHERWISE YOU MAY FORFEIT THE PROMOTIONAL VALUE OF YOUR VOUCHER AND BE REQUIRED TO PAY THE DIFFERENCE OF THE FULL PRICE SERVICE.*** Please call or email.
CALL IN ADVANCE TO BOOK!
All vouchers (Groupon, LivingSocial etc.) that are expired at the

time of your visit

are worth their face value (amount you paid).
Cancelation Policies - 24 Hours Required
We reserved this time especially for you...
If there is a need to cancel an appointment, we require 24 hours notice.

If you provide less than 24 hours notice, you will be at least charged the full amount as we have committed to serving you during this time. We will not re-book unless we receive payment for missed appointments.

If you arrive late, you may not receive your full treatment, however you will be charged for the full service.

Please arrive 10 minutes early for your first appointment. You will be asked to fill out an intake form to provide your massage therapist with pertinent information regarding your health history. For all subsequent visits, please arrive at least 5 minutes before your scheduled appointment to allow time for a complete session.

This policy is in place to benefit everyone's time and scheduling. We thank you for your cooperation!
We are not responsible for any typographical errors on this site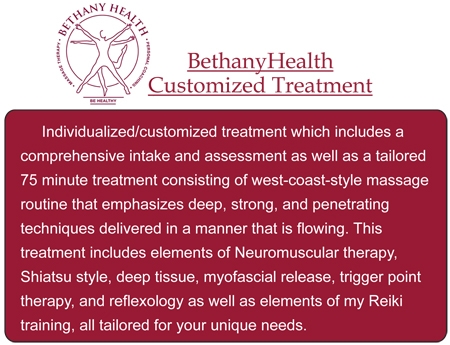 Other Modalities
Myotherapy, Neuromuscular and Trigger Point Therapy
Deeper structures of muscle and fascia (connective tissue) are manipulated to release adhesions (chronic muscle tension). This therapy is often painful during the session. This is the most effective in treating pain, while discomfort might result, pressure is always applied according to each client's unique tolerance levels, in order to maximize the therapeutic value of this type of massage. A major focus is on finding trigger points and using techniques such as deep pressure to reduce them. Trigger points are abnormally sensitive, highly irritable knots of tight muscle tissue that may cause pain or limit range of motion. These types of massage are also called trigger point therapies.
Myofascial Release Therapy and Myofascial Sports Bodywork
The goal is to release tension in the fascia by using traction, pressure and positioning. The primary results of this type of therapy is the improvement of functional flexibility and mobility, as well as pain relief of muscles, fascia and other surrounding structures.
Neuromuscular Therapy
A deep tissue trigger point treatment that relieves physical pain and supports injury rehabilitation.
Swedish Massage
Firm but gentle pressure is applied to the body to improve circulation, ease muscle aches and tension, improve flexibility and create relaxation.
Carpal Tunnel Therapy

- 30 minutes
Deep tissue work - treatment usually begins with work on the soft tissues around the forearm and wrist coupled with education about correct posture and movement, ergonomic assessment of the workstation (e.g. chair too low, monitor too high) and dialog to address emotions that lock muscles into "holding patterns" and affect breathing.
People often begin to notice a reduction of symptoms in one to three sessions.
Craniosacral Work
CranioSacral Therapy (CST) is a gentle, hands-on approach that releases tensions deep in the body to relieve pain and dysfunction and improve whole-body health and performance. By normalizing the environment around the brain and spinal cord and enhancing the body's ability to self-correct, CranioSacral Therapy is able to alleviate a wide variety of dysfunctions, from chronic pain and sports injuries to stroke and neurological impairment.
Migraine and Sinus Helper
This session focuses on your entire back, shoulders, chest and neck. Deep pressure is used to release trigger points and tension, allowing for instant pain relief. A facial massage is great for headaches, migraines and sinus problems. Pressure points over the face and around the eyes are stimulated to achieve relief of sinus pressure.
Reflexology
This treatment involves manipulation of specific areas in the foot, hands and ears that correspond to other parts of the body. This technique is used to reduce pain, increase relaxation and stimulate circulation of blood and lymphatic fluids. It is especially useful in stress related illnesses and emotional disorders.
Reiki
Reiki is a Japanese technique for stress reduction and relaxation that also promotes healing. It is administered by "laying on hands" and is based on the idea that an unseen "life force energy" flows through us and is what causes us to be alive. If one's "life force energy" is low, then we are more likely to get sick or feel stress, and if it is high, we are more capable of being happy and healthy.
---
Chair Massage
On site chair massage to help your employees to manage discomfort or pain caused by repetitive motion such as carpal tunnel problems, reduce tension of back and neck caused by prolonged sitting or bad posture, or simply to provide stress relief. It is a great way to provide incentive to employees, as well as a revitalizing break during hectic workdays.
---
Have Table Will Travel:
$160 for Sixty minutes, $175 for Seventy-Five minutes, $190 for Ninty minutes
*package discounts available, please inquire
*For targeted therapy/injury rehabilitation work $150 initial consult and 60 minute treatment followed by individualized treatment plan and $145 per 60 minute additional treatments. Typically 6 or more bi-weekly visits until issue is resolved.
**24 hour cancelation notice needed or full price of massage is expected before further service will be rendered
If you are experiencing financial hardship and need therapeutic massage but feel you can't afford it, please contact me and we'll try to work something out.